Have you ever wondered how some small business owners are able to get their pages to rank at the top of Google's rankings for highly competitive keywords? How can they find the time and resources to optimize their pages and build enough backlinks to be able to compete with large-sized businesses?
When it comes to link building, you basically have three options: You can (1) outsource the work to an SEO company, (2) hire a team of Virtual Assistants (VAs) to do the work for you, or (3) do it yourself. Obviously, the first two options require a fair amount of money that not every business can afford…

The third option requires a lot more work from you, unless you use an SEO automation software… The software I want to tell you about is called SENuke X. Here is my full, honest review of SENuke X:
SENuke Review
SENuke is an SEO automation software that basically does the work a whole team of VAs, on auto-pilot. The software will create email accounts, social bookmarking accounts, article directory accounts… for you and create backlinks to your pages, without you having to log into any of those sites. It will also get the pages indexed so the links are quickly found and crawled by the search engines. The latest version of SENuke is called SENuke X, and this SENuke review is based on this version.
SENuke is a desktop application that you install on your machine. It's very easy to install, and setting up a campaign is relatively easy for all users. If you're a beginner, don't worry too much as there are plenty of training videos as well as a great community of users. There are plenty of active users and you can easily find help on their help desk, as well as on their discussion boards…
What I really like about SENuke X is the newbie-friendly step-by-step wizard to set up campaigns. I would say I have a fairly advanced level when it comes to SEO, but with this automation software I don't really need to use my knowledge and skills. The software does it all for me. Now let's see how to set up a campaign in SENuke X…
SENuke Review
Setting up a Campaign in SENuke X
To set up a campaign, you first have to enter the URL(s) of the page(s) you want to promote and a set of keywords. I recommend that you enter at least 2 keywords per campaign so it is not always the same anchor text that is used for the links. Diversity is good when it comes to link building.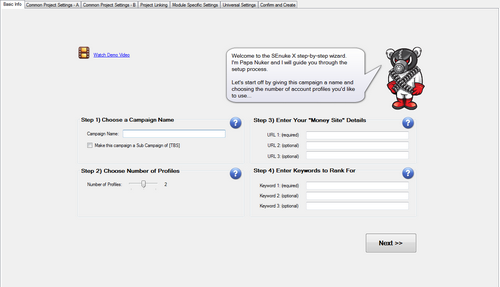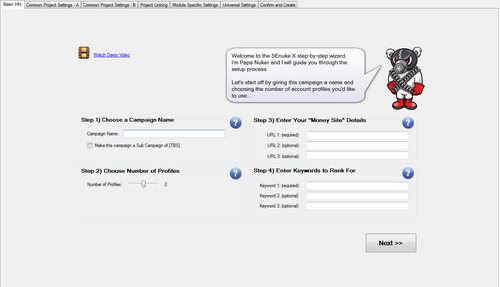 A few steps later you are asked to choose a template (or diagram) for your SENuke campaign. This is where you can choose what kind of promotion strategy you want for your campaign, whether you only want a few links, or a lot of links, and what kind of links you want. This is an advanced feature but is presented in a way that makes it very easy to use.
If the keywords you want your pages to rank for aren't competitive, you can choose one of the basic templates they offer. On the other hand if the keywords you want your pages to rank for are very competitive, I suggest that you choose 'The Full Monty', which is I think the best template if you want a lot of backlinks, and a good indexing rate.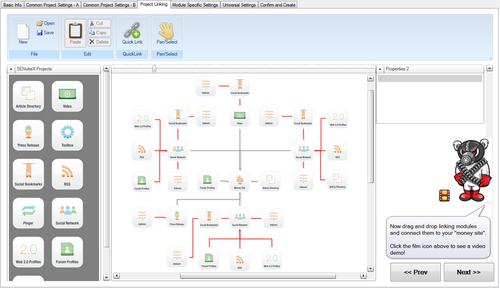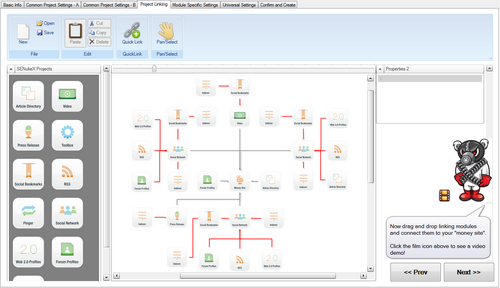 You are then asked to generate content for every 'module'. For example if you decided to build backlinks using article submission, you are asked to paste an article in (or generate one using SENuke) and spin it. By clicking the 'Generate' button SENuke X will generate the article for you, in just a few seconds.
Insider Tip #1: I recommend that you use SENuke X in combination with The Best Spinner, so you can easily spin all the content the software generates for you. The combination of both software really makes it easy to achieve a lot in a short period of time. I know the owner of The Best Spinner and managed to get a deal for my readers so feel free to take advantage of this offer. Click here to view the offer now and take advantage of the discount, or read my review: The Best Spinner Review
Insider Tip #2: If you decide to create backlinks using the video option but don't know how to make a video, I suggest that you use Animoto to create short video slideshows and upload them to SENuke X. Animoto is free to use and creating a nice looking video with this service is a piece of cake.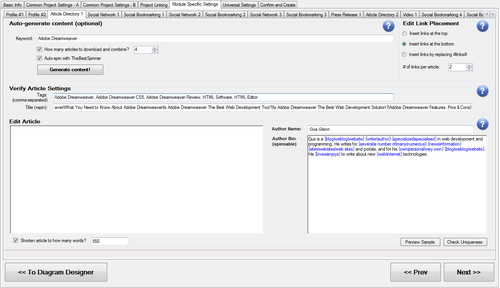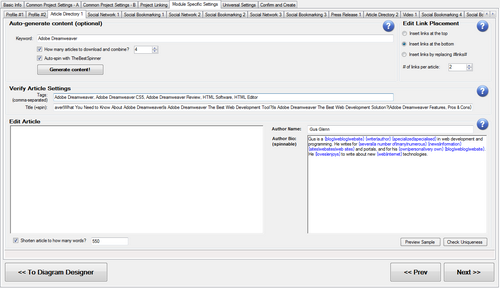 The final settings are pretty straight forward. You must choose a captcha solving service (I recommend DeathbyCaptcha), enter your details, set the start date and select the number of days over which you want the actions (account creation, link submission, indexing…) to be performed.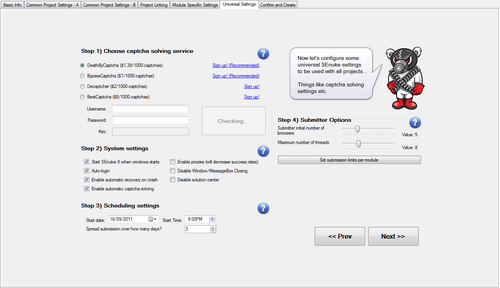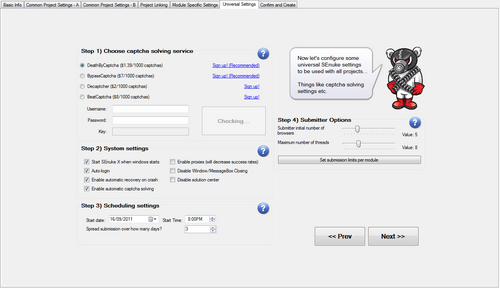 Once done you will be able to see the actions SENuke X will perform for your campaign. The software also tells you what has been done already, and what's the next action it will perform.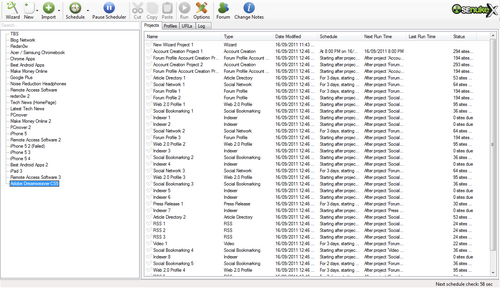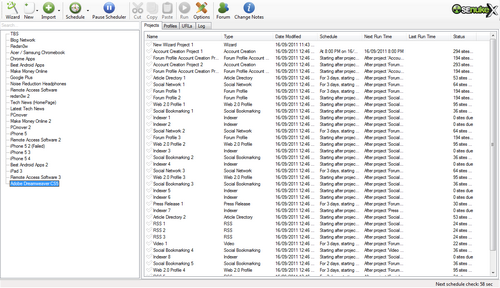 SENuke allows you to schedule projects, so you can prepare them in advance. I really like this feature because that way I can prepare and schedule projects, and then work on other things while SENuke is running in the back. What I also like to do is to prepare an SENuke campaign for a page I want to promote every evening, and I let it run the rest of the evening and at night, so it doesn't interfere with what do during the day.
Not only SENuke X will allow you to improve the rankings of your pages, but it will also help you save a lot of time! Imagine how much time you could save if you stopped building backlinks manually… Wouldn't you like to spend more time with your friends or family? Or maybe focus on other important aspects of your business? SENuke is a real time-saver! Period.
SENuke Review
SENuke is for me the best SEO Automation Software on the market. There are plenty of other solutions to help you get better search engine rankings out there, and I have tried a fair few but none of them come close to SENuke. I highly recommend it to anyone wanting to get better search engine rankings and take his/her online business to the next level.
SENuke isn't free, but I can guarantee you it is worth the investment. If you don't think you can afford it, make sure you take advantage of the free trial offer (fully functional version) so you can at least see how it looks and works. Anyhow, thanks for reading this SENuke review! Click Here to Get SENuke X Now!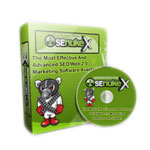 Click Here to Get SENuke Now!
or Try it FREE For 14 Days!
If you have any questions, feel free to leave a comment below.
SENuke Bonus
First, I'd like to share the recording of a call I had with Areeb Bajwa, software genius and co-founder of SENuke. You can listen to it here. Areeb and I go over SENuke in details… If you want to learn more about SENuke, make sure you listen to it, and if you have any questions, feel free to ask them below.
I also created a template (or diagram) based on the popular 'Full Monty' and called it the 'Extra Monty'. If you get the paid version of SENuke through my link, I will share it with you, as well as a 103 pages eBook on Banner Advertising: Banner Ads Are Back.
I will also give you a Free Premium account on SocialMonkee. If you don't have an account, sign up here and I will upgrade your account from Free to Premium. Please submit a ticket here to claim your bonuses (with the email address you used to sign up to SENuke).