Choosing a web host isn't as easy as it looks. There are hundreds of web hosting providers on the market but not all of them provide the same services. You have to make sure that the one you choose perfectly fits your hosting and marketing needs. For internet marketers or home business owners, two of them stand out from the crowd: ViralHosts and HostGator. Are you wondering why? Then continue reading for a review of ViralHosts and HostGator.
ViralHosts Review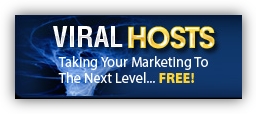 ViralHosts is free to join, which is great if you want to give the system a try first or just host a squeeze page. However, the free membership comes with a basic version of cPanel and no SQL database slot, so you won't be able to set up a WordPress blog for example. If you're on a tight budget, you may join free and upgrade at a later time.
Upgrades are pretty cheap. If you upgrade to Silver ($17 per month), you get Fantastico De Luxe, which is a point-and-click installer that allows you to set up WordPress in just a few seconds, as well as RV Site Builder and SiteReptile Website Builder. If you upgrade to Gold ($197 per year, which is approximately $16.4 per month), you also get access to the system mailer, which allows you to email 3,000 random members every 3 days. This is truly a great advantages if you want to promote your products or other people's products.
The system mailer is truly great for lead generation. As an internet marketer or home business owner, you should definitely consider upgrading to Gold or Platinum or higher. As a Diamond or Elite member you can email not 3,000 but 6,000 random members every 3 days. This in on top of all the upgraded hosting features you get with these memberships.
ViralHosts is cPanel-based, but it also comes with 'Simple Panel', a simplified version of cPanel (still under development at the time this blog post is published) that allows you to set up your hosting in a matter of minutes: adding domain names, creating FTP accounts, installing WordPress… cPanel is rather intuitive and easy to use but if you want to keep things simple, 'Simple Panel' is a must-have!
For more information on the hosting and marketing features, please read this blog post: 9 Reasons to Join ViralHosts.
HostGator Review

HostGator isn't free to join but you can try the system for only 1 cent if you enter the following coupon code at sign up: "HGC25". It's then $9.95 per month for the Baby Plan (which is good enough, as it has all the features you need). HostGator is more mainstream than ViralHosts. It's a very popular web host among bloggers of all industries.
HostGator is also cPanel-based but doesn't come with 'Simple Panel'. However, it has a few other advantages such as the possibility to add an unlimited number of domain names (if you have chosen the Baby Plan or higher), unlimited disk space and unlimited bandwidth. You can also create an unlimited number of subdomain names, FTP accounts and email accounts.
HostGator is very reliable and provides very good customer support. The customer service is very quick to respond, which is a plus if you're in a rush. HostGator is also labeled as green hosting (they have invested in wind power to offset server emissions).
Final words
ViralHosts: 9/10
Click here to join ViralHosts
ViralHosts is great for internet marketers and home business owners for several reasons. Setting up a WordPress blog only takes a few minutes, and with the system mailer, you can generate hundreds of leads every single month.
HostGator: 8/10
Click here to join HostGator
HostGator is great for the general public, because it's cheap, reliable and you get unlimited disk space and unlimited bandwidth. You can also add as many domain names as you want (if you have chosen the Baby Plan or higher).
If you're still undecided, always remember that the decision should be mainly based on your hosting and marketing needs. Choose wisely, but don't forget that you can then upgrade at any time (at least with these two web hosts). If you decide to go with HostGator, you may still create a free account on ViralHosts to upload a webpage for inbound links to your main site or blog.
This blog post is part of a series of hot topics for making money online. Stay tuned for more and feel free to share your own experience on web hosting with us!
If you missed out on the first hot topic, please click the following link:
Hot Topic #1: Keyword Research Tips and Tools