Hi! I'm Colin, full-time internet marketer and entrepreneur. You might know me for one or several of the many sites I have created over the past few years: ViralUrl, ViralNetworks, ViralHosts, ViralinBox… Want to learn a little more about me?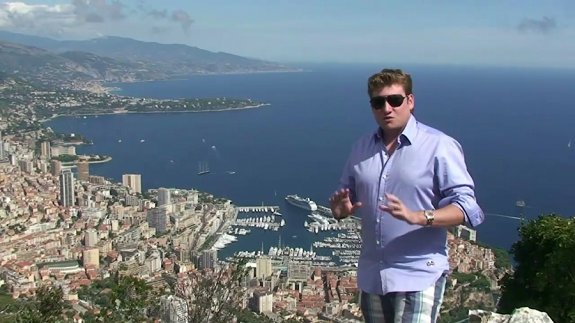 Click to watch the video
I was born in South Africa, moved to the UK for 6 years for my middle schooling and then immigrated to Australia for high school and college. I am currently 25 and now live in the South of France (Monte-Carlo). My interest for internet marketing began in 2003 when I was only 18. I spent a lot of money in educational programs but started to make money online soon after. I have learned from both failures and successes. My first big site made over $2 million in sales in over just 2 years and is still running and growing!
I have launched and run some very successful membership sites and, through trial and error, know the formula that works. I am working on a couple of very exciting projects as we speak, but it wasn't always like that for me. I was the high school failure, College drop out, pizza delivery guy who maxed a credit card the bank should never have given me, trying different 'schemes' online.
A Shift in mindset, understanding that this is a real business, not a 'get rich quick' hobby, and years of training courses, testing and educating, I now run a real, successsful online business that grows every year. The point of this blog is to drastically shorten and minimize YOUR learning curve as well as get to know some really great people in the industry. Welcome to my community, I look forward to getting to know you.
So… Please subscribe to my RSS feed and follow me @ ColinKlinkert as I regularly publish breaking industry news as well as miscellaneous ramblings and make money online tips and keys to success. I look forward to getting to know you and helping you exceed your goals! Make sure you download my 10 Action Steps to a Successful Online Business ebook (enter your email address in the opt in form on the left). I reveal quite a few of my secrets in it!
My Life:
I have a loving family (Mum, Dad, Brother & Sister) who live in Australia and I try and visit them for a couple of months every year. I live the 'Dot-Com Lifestyle' so it is possible for me to run my business from anywhere (except on game farms in Bostwana as I found out only after arriving, there is no internet, cell phone reception or fixed line telephones!) This means I spend summer in Europe on the Mediterranean, and summer in Australia! (Not a fan of the cold)
I also have a loving girlfriend who now lives with me in the South of France. We have been together for over a year at time of writing and she has proven to be very supportive on all fronts. Having people believe in what you doing definitely makes things easier… in our industry it is sometimes hard to explain to loved ones what we do, especially when things are still in the 'laying the groundwork' phases (Click the images to make the bigger)
[nggallery id=3]
My Ride:
I'm very fortunate to not only be living the 'Dot-Com Lifestyle' and enjoy all the freedoms that comes with that. No boss to answer to, can travel when I feel like it, can sleep in if I wanted (I'm a morning person though) and the ability to work from anywhere and a lot less than most people might work… BUT, I am also successful at it to the point that I don't only cover my day to day living, but earn enough to buy some toys too 🙂 Late Last year I got myself a 911 Porsche Turbo for $180,000 (110,000 Euros). I paid cash and didn't need to take a car loan where you really do get hit hard by repayments. Something I learned fast when I needed to get bailed out on my credit card debt by my parents – Never take a loan on something that is not an asset. Always view a car as an expense, so never take a car loan unless you absolutely have to. (Rather take the loan and invest it somewhere smart) Here is my car: Suzy (yes, I'm one of those strange people that names their cars! The name comes from my last car, a Suzuki Liana):
[nggallery id=4]
You Can Have It All Too:
I also provide consulting services in the areas of marketing and business development (in relation to the internet industry). I only take a few clients per year though, so if you are looking for a creative, forward-thinking consultant with a lot of experience in internet businesses, make sure you visit the dedicated page: Colin Klinkert Consulting.
To Success in Business & Life,
Follow Me on Twitter: http://www.TwitterColin.com/
[nggallery id=1]