Do you want to create a Facebook page for your business? Then you are on the right page, but first let's talk about Facebook… Before you create a Facebook page, it is important to understand a few things about the social platform. At the time I write this blog post, Facebook has over 350 million active users. 50% of them log on in any given day and the site now counts more than 700,000 business pages.
As an internet marketer or home business owner, this should sound like a great opportunity for you to strengthen the relationships with your existing customers and even maybe generate new leads. Out of 350 million active users, you'd be unlucky not to find any of your customers already on there. Now you know why you want to create a Facebook page for your online business…
Create Facebook Page
A few weeks ago I published a blog post on how to set up a Google profile for yourself. This time I will show you how to create a Facebook page for your business. It's dead simple but I also give a few tips. Creating a Facebook page only takes a few minutes so don't miss out on this opportunity…
Having said that, I tend to use Facebook for personal use rather than business use. However, Facebook has made it so easy for businesses to create a page that I eventually decided to jump in. Feel free to check out my page now. I will be giving away some cool products for those who join and participate in the community.
To create a Facebook page for your business, log into your personal account and go to the page creation interface. If you don't have a Facebook profile yet, you will then need to create one. You first have to choose a category: an area, a brand, product or organization, or an artist, band or public figure. Select the category that best fits your business and move to the next step. Enter the name you want to give to the page and tick the box if you don't want the page to become public at this time. If you do so you will of course be able to make it public at a later time. Then click 'Create Page'. Too easy!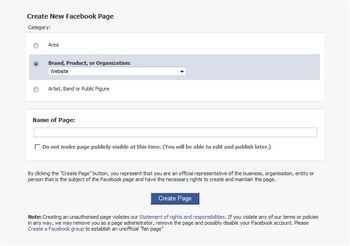 Create Facebook Page
You will then land on your newly created business page. You can start customizing it. You may add a picture for example, and edit the information. Click 'Edit Information' and fill in the fields: when the business was founded, what the website address is, a short company overview, etc. Make sure you complete the profile comprehensively so it really looks professional. Browse around and check out all the features that you can use for your business page.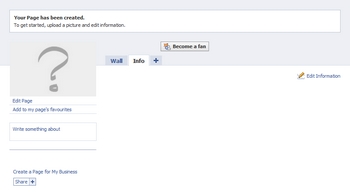 Create Facebook Page
Now a few tips: Having a Facebook page for your business is a good thing… if you manage to make it successful. Well, I just created mine but I already have a few ideas on how to get followers. For starters, make sure your page is complete (with a picture, basic information, detailed information, etc.). You may add a link to the page to your blog (check out the buttons on the right), email signature or anywhere you feel like. You may even tweet about it.
To attract followers you will also need to make your page engaging enough, so people actually want to join the community. Make sure you regularly add new content (news, videos, upcoming events, etc.) to your feed. To engage visitors you may even organize contests or reward those who participate (with freebies for instance). These are only a few techniques on growing your followers list. Feel free to share your own!
So what are you waiting for? Create Facebook page now!