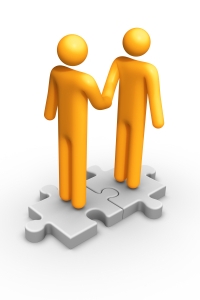 If there's one thing that most really successful marketers do that separates them from the rest, it's joint venture marketing. A joint venture is pretty much what it sounds like on the box; you do a business venture along with somebody else for your mutual benefit. This is one of the best ways to build your business quickly.
Joint Venture Marketing
The most basic version of joint venture marketing is ad swaps. In essence, you send a message to your list about your joint venture partner's offer, and he does the same for you. Typically, what you'll be offering is something free in order to get new people on your list. The drawback here is that if you don't have much of a list, you're not going to find a lot of people willing to work with you.
This is probably why most people new or not so new to internet marketing don't pursue joint venture marketing more often: they don't think that they have anything to offer. Honestly, sometimes this is true, but most people will have something to offer a potential business partner.
You could offer exposure on your site: on the homepage or in the members area, with a special login page or thank you page for example. You could also build a page for recommended resources. Even if you don't have a lot of members, over time this could be beneficial for your joint venture partner.
If you're good at writing, you could approach somebody higher up the ladder than you and see if they'd like to collaborate on a course or an ebook. You do most of the work, and then use their reputation and resources to sell. You get to make some money and build your own reputation and brand awareness, so it's a winner all around.
So, what you need to do is look at your talents, skills and resources and identify areas where you can use other people to leverage them. What do you have to offer a joint venture partner? For more information on joint venture marketing, read this blog post: Finding Good Joint Venture (JV) Partners
If you'd like to partner up with me, make sure you read this page: JV With Colin Klinkert
Another AWESOME place to meet some very cool people who could be future JV partners is on Viral Networks, which is a social platform for online business owners. You can check it out and add me as a friend once you join 🙂 See you on Viral Networks!