Last week I signed up to Joel Therien's new membership site: 7 Minute Workout. I know Joel for a little while now and I trust him, so I decided to take on the challenge and write a review of his program. This is an honest review, and the fact that I know Joel did not influence me in the writing of this 7 Minute Workout review.
7 Minute Workout Review
I quickly gained interest in 7 Minute Workout for two reasons: first, let's be honest… it's money making opportunity. 7 Minute Workout is an MLM program which means you make an income from people you refer to the program, and from their referrals as well. More details on the affiliate program down this page. However the main reason why I joined is because like a lot people in our industry, I need to work out but I don't!
After joining 7 Minute Workout, you will be required to fill in your profile. What I really liked about it is that just a few minutes after I uploaded a picture of me (with a cute baby lion), I received a few comments about it. From that moment I knew there was an active community on 7 Minute Workout. The members area is very well structure and it's quite easy to find your way.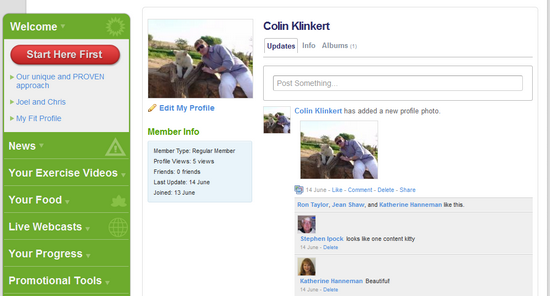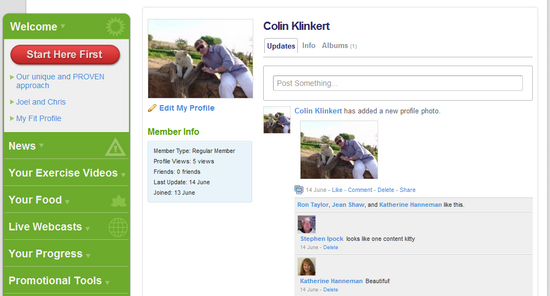 With the screenshot above you can also see the different sections in the members area: Welcome, News, Your Exercise Videos, Your Food, Live Webcasts, Your Progress, Promotional Tools, and Member. Let's start with the exercise videos. As you can see below, you will be provided with a workout plan based on the answers you gave to the questions in your profile.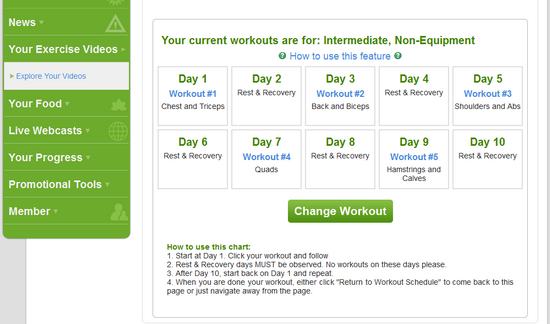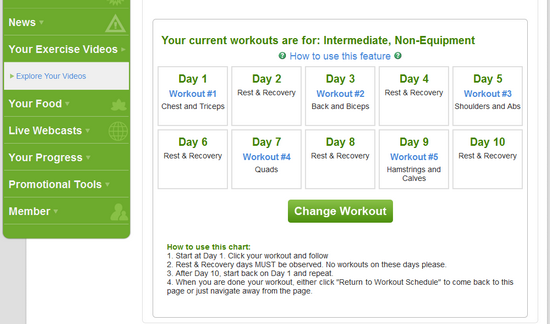 Good to know that the plan we're provided with is adapted to us. If I don't like this workout plan, I can click the 'Change Workout' and get a new one. Then by clicking on the Workout links I get access to the videos showing what to do exactly. I really like the way this is organized, and for people like me who sometimes (often) lack motivation, this is a game changer.
In the next section: Your Food, you get access to a Food Tracker, Recipes, and a Recipe & Menu Builder. In this section you can track your meals, and most importantly improve them. When I first read about the recipes, I was a bit skeptical because I usually don't have much time to cook myself, but if you're in the same situation don't worry too much because there are plenty of 10 to 30 Minutes Recipes.
Joel and business partner Chris also offer live webcasts, which is great if you want to stay up-to-date and interact with them. Past topics include: Motivation and Mentoring with Chris Reid and Joel Therien, 'Understanding Fitness and Nutrition with Joel Therien and Chris Reid', 'Live Support Meetings and General Questions with Melissa Cohoe'…
In the next section: Your Progress, you can check your progress over time, which will tell you if this program is working for you or not. This is actually very detailed. You can track the following: Weight, Thighs, Arms, Waist, Chest, and Pant Size. As you may know I'm taking on a challenge so I will be checking this section closely.
Finally, in the Promotional Tools section you will find plenty of banners and ad copies to help you promote the program. As previously mentioned, 7 Minute Workout is an MLM program so not only will you lose weight, you will also get paid. You will be earning commissions on your direct referrals, but also on their referrals. Find more information inside the members area.
7 Minute Workout Review
To be honest with you… I'm not surprised but I'm quite impressed. I know Joel, and when he told me about his new program, I knew it was going to be a top-notch program. As you may know I decided to take on the challenge myself and I invite you to do so too! I already enrolled my business partner Frank and I'm sure many more will follow!
As for the cost, I think it's VERY affordable compared to what professionals would normally charge you. You would actually need to hire a personal trainer and a dietitian if you wanted to do everything that's provided in 7 Minute Workout all by yourself. From experience, I can say that personal trainers and dietitians are quite expensive, but with 7 Minute Workout you don't need to hire anyone!
4 words for 7 Minute Workout: Great Value For Money
7 Minute Workout is all about results. This is not just another workout program but a program that was designed and built to bring a real change in people's life. They created tutorial videos for pretty much every section of the site, which is great if you're not familiar with this kind of program. You will quickly find your way, and there is also an online community: galleries, blogs, polls, forums, groups…

Click Here to Join Now!
7 Minute Workout Bonus
As a bonus for joining 7 Minute Workout under me, I want to share my personal results with you. I really want to make progress, and I also want you to, so I'm going to share my progress with you, so you can see how well I do and maybe this will motivate you. You will be receiving an email after joining with the login details to access that privte section on my blog, so we can share our personal experiences.
Thanks for reading this 7 Minute Workout review! If you have any questions about the program, feel free to ask them below! Make sure you also check the overview video I made below!

Click Here to Join Now!
Overview of 7 Minute Workout