About week ago I participated in an MLM Lead System Pro webinar along with my VP of Operations Julien Duc and Top Network Marketer Brian Fanale (co-owner of MLSP). Unfortunately, a few MLSP Members missed out because the webinar was at 6.30pm instead of 9.30pm (Eastern) but the video call was recorded and is now made  available to anyone:
>>> MLM Lead System Pro Webinar Video <<<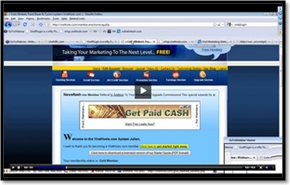 If you were unable to make it last week and want to learn more about ViralUrl and ViralHosts, make sure you check out the video. It's about an hour long but is full of useful information: features and benefits, how to get started, testimonials, questions and answers… We got a couple of very good testimonials that we're really happy about. If you want to download the MP3 file, head to the MLM Lead System Pro archive section (you need to be logged in to access this page).
I hope you enjoy it!
Update: A new webinar video about ViralUrl is now available. Make sure you check it out! Both videos are also available on ViralNetworks:
– MLSP Webinar – ViralUrl & ViralHosts
– MLSP Webinar – Supercharging ViralUrl