Online marketers have been using eBooks for a long time, but regular people are getting in on the act. Amazon released the Kindle, their eReader, a couple of years ago, and it's been growing like a weed on steroids ever since. For the first time, eBooks are becoming a mass market.
Kindle Marketing
Marketing for the Kindle also represents a huge opportunity for marketers, but you need to understand how Kindle readers think and buy if you want to make some serious money.
For instance, internet marketers are used to paying a lot for eBooks. Upwards of $30 for an eBook isn't uncommon, and that's for eBooks that aren't particularly long. This isn't going to fly if you're trying to sell books on the Kindle, where many of the best sellers are 99 cents.
What this means is that if you want to prosper in this new market, you need to learn about the new market. You need to take a different approach than you've probably been using in your ordinary marketing. If you're going to go into Kindle Marketing, here are a few things that you need to know before you get started:
Kindle Marketing
Price – Right now, Amazon offers you seventy percent royalties on books priced between $2.99 and $9.99, so this is your pricing sweet spot. You need to forget about high priced eBooks; this range is your sweet spot.
Promotion – One of the big advantages to Amazon is that they do the promotion for you. The customers also bought feature and best seller lists are great ways to advertise. You can certainly use SEO and other methods to promote as well, but your time might well be spent creating more content.
Popularity – Right now, a lot of marketers are basically just trying to use the Kindle as another way to sell their preexisting products. While there's not really anything wrong with this form of Kindle Marketing, you'd be better off figuring out what is popular on Kindle and trying to fill gaps.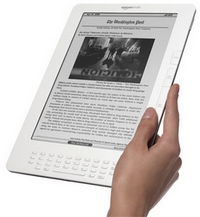 Product – The real winning strategy is to have a lot of products up. You are not going to make a huge amount on each book you sell, so you want to sell a lot of copies. The more books you have, the less each one needs to sell in order to get you where you want to be. One subtle advantage of the Kindle is that it doesn't have page numbers, which means that these books don't have to be long, especially if you're only charging $2.99 for them.
PLR – There is a lot of crappy PLR out there, but if you can find the good stuff, you can use it to build up your product. What you don't want to do is put it up as is; take the time and rewrite it or have it rewritten and put out the best product that you can.
Publisher – Once you've gotten the hang of formatting books for the Kindle and have a good idea of what you're trying to do, you can set yourself up as an ePublisher. Basically, you'l prep and publish the books, and split the money with the author. If you have a well-developed promotional machine, this can be a win-win for you and the author.
Print – Amazon also has a program known as CreateSpace, which is their print on demand service. The most basic level is free to use, so you can list your books as print books on Amazon. This is an additional income stream for you, and another way to make money from your content, so don't miss out.
Platforms – While we've been discussing Kindle Marketing here, the Kindle is not the only player on the block. You can also sell through Barnes and Noble's Nook, as well as through iTunes and a host of other sites. If you've got the books, you'd be crazy not to upload them there as well.