About 3 years ago I started to work on a project that I became passionate about: ViralNetworks – a social networking platform for online business owners and marketers… and I finally got what I wanted! My business partners Tycho and Michiel and I launched the first version of this business social network about 2 years ago, but we've just released a new, improved version (with a new design, new features, feature enhancements and other improvements).
Building and scaling a social network from scratch is hard, no borrowed code or script besides WordPress and ViralInviter! More than 200,000 lines of code in total! The new version of ViralNetworks was in public beta for about two weeks, so you might have already seen it! If not, make sure you take a look at it and sign up now!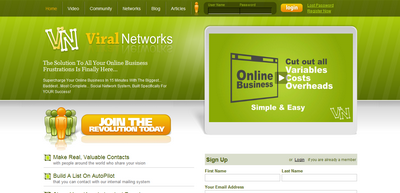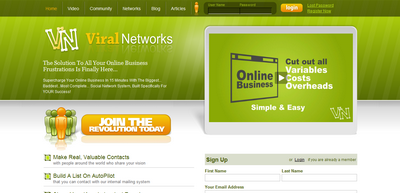 ViralNetworks
Business Social Network
for Internet Marketers
I like to describe ViralNetworks as a content distribution platform, but it's actually much more than that… it's a place to meet and network with joint venture partners and get social with your customers, providing them with a Web 2.0 experience. ViralNetworks is a business social network where you can socialize, share, promote, advertise, earn and learn, all in one place!
I cannot cover all the great features and benefits you get by joining the site in a single blog post… but let me briefly mention the main ones: not only you can network with other online business owners and marketers like you, but you can also build a list and email it every 5 days, upload photos and videos, submit articles and wikis, discuss various topics on the forums… and much more! You actually get rewarded for submitting top quality content to the site!
ViralNetworks is free to join but the real power of this social business network is in the upgraded memberships. For example as a Gold or Platinum you can contact 3,000 random members every 3 days! 6,000 as an Elite member! Imagine how many leads and sales you could make by sending your offers to so many members every few days… and that's just one upgraded feature. There are plenty more!
Among the new features you will find networks for site owners so they can better interact with their customers, an article directory (with dofollow backlinks allowed), an achievements and trophies system to build a reputation online, an events calendar, an upgraded members only forum… The site is also now even more search engine-friendly than before! Create and fill in your profile today, and you will be likely to see the page ranking in Google for your name!
I urge you to join now and start changing the way you do business online!
Click here to join ViralNetworks
& start changing the way you do business online!
To Your Success in Business & Life

Colin Klinkert


CEO, ColinKlinkert.com