A few days ago Google officially announced the launch of Google Buzz, a social integration and messaging tool. Google Buzz is Google's latest attempt to jump into the social networking wave. They already have Orkut and OpenSocial but let's be honest… who really use them? If you use Gmail, you must know about this new social app already. Google Buzz is a mix of Twitter, Yammer, Foursquare and Yelp.
With Google Buzz, you can share whatever you feel like, including links, photos and videos. It has a few others cool features such as an auto-following function, a public and private sharing function and the inbox integration. Because Google Buzz is integrated into Gmail, it quickly got a great exposure and a lot of internet users started to use it as soon as it was released. According to analysts, 9 million posts were published on Google Buzz within the 56 hours of its release! Wow!
Google Buzz integrates several platforms including Picasa, Flickr, Google Reader, YouTube, Blogger and Twitter. No doubt Google is trying to catch up on social networking and microblogging platforms like Facebook and Twitter. The feedback I read on the web is pretty good so far, and I enjoy using this app myself. I had the feeling it was just another social app… but I quickly started to change my mind. The fact Google Buzz is integrated into Gmail really helps!
To use Google Buzz, you must have Gmail account. No big deal considering it's one of the best web-based email platforms! Check out the Google Buzz website for more information. It's pretty simple to use. Right below the link to your inbox, you will see a link to Google Buzz. Click it, start following people and you're pretty much set up! You can then start posting messages. You can link your Twitter account to your feed so every time you publish a tweet, it will automatically show up on your feed.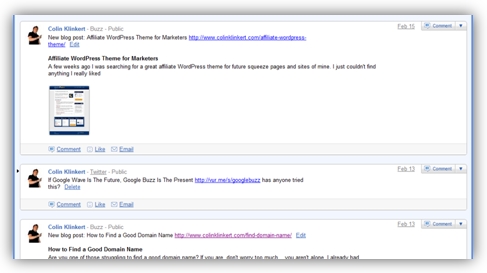 If you want to check out my feed, please visit my Google Profile: Colin Klinkert. If you want to have a Google Profile as well, read this blog post: How to set up a Google Profile. Note that Google changed quite a few things to the initial version of Google Buzz as several users complained about privacy issues.
A few months ago I published a blog post about Google Wave. Well… if Google Wave is the future, Google Buzz is definitely the present! Note that Google Buzz is also available on mobiles. If you want to learn more on this new app, watch this video: