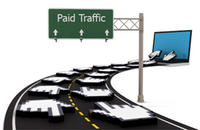 Traffic is essential to any online business. If you have enough traffic, then any offer, no matter how terrible, will eventually make money. People actually do make money, albeit small amounts, from AdSense sites that are designed to be so bad that they will encourage people to click on an ad just to escape the horror.
On the other hand, without traffic, it doesn't matter how good your product or offer is. You might have created a product that solves all your potential customer's desperate needs and written copy that converts at fifty percent; you won't sell a thing if you don't get eyeballs on the page.
Paid Traffic – The upshot is that getting traffic is easy; you can pay for traffic and get as much as you want, whenever you want. The problem is the matter of paying for it. While pay-per-click and other forms of paid traffic can make you a lot of money, they can also drain your bank account faster than Bernie Madoff on a gambling spree.
Paid Traffic
There is a couple of things you need to have in place before you start buying traffic:
A budget – Obviously, you need to pay for paid traffic, but you also need to keep in mind that there is a learning curve involved, and that you are likely to have to spend money for a while before you make any. If you can't afford that, you're not ready.
A product that converts – You need something that people are actually going to buy. Basically, you need to know what your conversion rate is and what your other relevant numbers are. If you don't, or if they suck, you should hold off on buying traffic.
Discipline – Success with paid traffic is all about testing and tweaking. You need to be able to make and track changes in an orderly meaningful way. If you just switch things randomly without hard data, you won't succeed. This can be hard to stick to when you're losing money, so you need discipline.
If you want to learn how to get cheap paid traffic, make sure you watch the video I made not so long ago:
– Cheap PPC (highly recommended video)
Any questions? Feel free to leave a comment! Do you pay for traffic or do you stick to organic traffic from the search engines? Remember that you can also get in touch with me via my Facebook page!