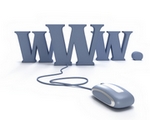 Are you one of those struggling to find a good domain name? If you are, don't worry too much… you aren't alone. I already had several of my customers asking me how to find a good domain name for their site, blog or squeeze page. According to them, most good ones are already taken… which is partly true. Finding a good domain name for your site or whatever the type of online presence you're planning to have isn't easy. However, don't just hurry to register a domain name but rather take the time to think about what you really need or want.
Some will say that a domain name isn't that important… Well, a good domain name can definitely help your site rank better in search engines but most importantly it can grab your visitors' attention and stay in their mind. A great domain name can even become one of your greatest assets! Don't be too over excited though. A great domain name can help you rank better in search engines for example but isn't necessarily a guarantee of success…
How your domain name should be:
– Short
– Memorable
– Easy to spell
– Easy to type
– Descriptive…
Easy to say but difficult to do… By descriptive I mean including keywords (as in viralmarketingmanuscript.com even though this domain name is a little too long), because they can help you rank better in search engines. You should avoid dashes and numbers as much as you can. Web users are now overloaded with information, so it MUST be memorable. Unless you target a specific geographic area, choose a common domain name extension such as .com, .net or .org.
Study the competition, ask around you and maybe use domain name suggestion tools like Domains Bots, Domain Tools or Dot-o-Mator. Once you have an idea of what you need or want, check the availability on a domain name registrar like GoDaddy or NameCheap. You will need to perform a search to check if the domain name you want, with the extension you want, is available or not. Feel free to perform as many searches as you want as they will help you find alternatives.
If you really struggle in choosing a domain name for your online presence, it's still time to do a brainstorming. Most good domain names are already  taken, that's right… but with some creativity you can find a great one that will perfectly match your needs. Try to think outside the box but always remember the characteristics of a good domain name.
You can purchase your domain name from a large range of websites but I tend to purchase mine from well established companies like GoDaddy and NameCheap. They are large companies that aren't going out of business anytime soon… which is definitely a plus. Both GoDaddy and NameCheap provide good support. Now if you need web hosting as well, make sure you check out what makes ViralHosts web hosting so good!