A few weeks ago I found a great popup script that makes modal popups capable of getting past most blockers. If you are searching for a popup script, make sure you give it a try! It's called Modal Popup Maker and you can download it FREE by simply entering your first name and best email address in the form below. I bought the rights and decided to give it away to the members of my blog.

Popup Script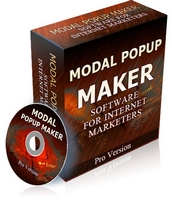 Fill in the form below to receive it FREE!
Popup Script
Do you think popups are dead? You're wrong! There are still doing very well! Blockers don't stop all popups and if you do things the right way you WILL get results! This popup script is actually a desktop application, and is for modal popups, so they show up on most screens. I once thought popups were dead but I still use them as I keep getting results and don't receive any complaints. As a visitor they're annoying when you start getting too many, and when the message is irrelevant, but if the message is useful most people will not get annoyed. If you use them the right way, they're awesome!
You can use popups for plenty of reasons: to let your visitors know about a special offer you have, or to remind them about a time-limited offer or maybe even ask them to do one last thing before they leave the page. In any case, you need a popup script and that's why I have decided to give this one away. Everyone can have it so feel free to share this blog post with your contacts. Please refer them to this blog post rather than sending them the installation file. That's all I ask in return! 😉
Popup Script
To download this popup script, please enter your first name and best email address in the form below. This will direct you to our Bonuses page where you will be able to download the Facebook eBook as well as many other free products and bonuses.
Join Our Community & Get Access to Premium Content, Training
& Free Bonuses For Members Only (Value $197) Cost: FREE:
The file comes with a user guide so there's nothing to worry about if you're unfamiliar with popup scripts. I gave it away to a newbie friend of mine the other day and he loved it. It's easy to install, easy to use, and it does the job! Simple yet very effective! If you have any questions, feel free to ask, and stay tuned for more product giveaways!