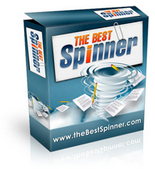 Here is my full, honest review of The Best Spinner, an article spinning software by Jonathan Leger. There is also a special The Best Spinner discount if you feel this software is right for you after reading my The Best Spinner review (see the bottom of this article).
As an online business owner or marketer, you how powerful article marketing can be. Not only will it raise awareness about your products and drive direct traffic to your pages, it will also help you build backlinks to ensure your site ranks better in the search engines.
I believe in large scale article submissions. Why restrict yourself to a few article directories and networks when there are hundreds of them? However, for your articles to be seen as quality articles, and for your backlinks to be valuable and get indexed, you need to submit unique, quality content. The fastest and easiest way is to spin the content of your articles, so the articles you submit to the different directories and networks look different (and ideally unique).
The Best Spinner Review
The Best Spinner allows you to spin an unlimited number of articles. What I really like about The Best Spinner is that it pulls content from a huge database of synonyms generated from real people's synonym suggestions (User Favorites). This is vital because they are normally much more accurate and 'in context' then from a dictionary or thesaurus.   You simply have to paste your article in, click a button (select a few settings that are of course saved for next time) and the system automatically adds synonyms to most words in the article.
The Best Spinner Review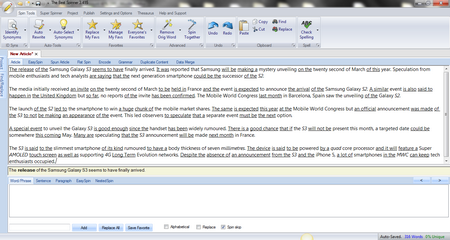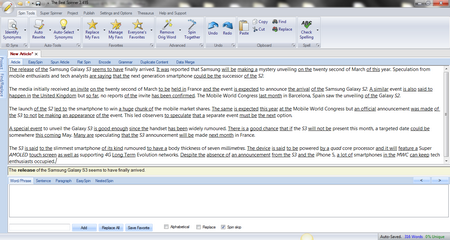 (Before) Raw Version Your Article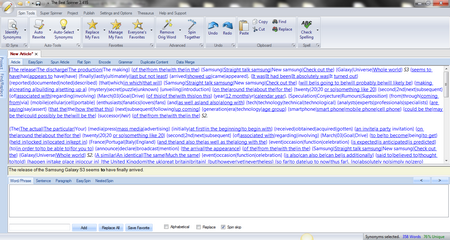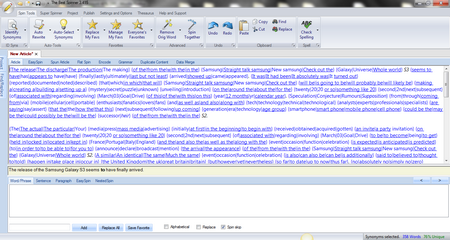 (After) Spun Version of Your Article
Because I like my articles to be well spun, what I usually get my team to do is to check all the word variations provided by The Best Spinner, remove those that don't really make sense in the sentence, and add some more of their own. Now nested spinning is supported by The Best Spinner, they also add some sentence variations, which rapidly increase the overall uniqueness rate of the article.
TIP: First rewrite some of the sentences and make them different lengths and meanings… THEN do the 'user synonyms' replacement. This makes your article much more unique and varying lengths and structure, which is very important these days.
Once the article is spun, all you need to do is to click another button, and it generates the different versions of the article for you. You can then submit these different versions to article directories and article networks. If the articles networks you use support the same spinning format than The Best Spinner, then you may even submit the spun articles (with the tags: brackets, dividers, etc.). (Read enough? Click here to get your copy at the lowest price you will find, anywhere on the internet)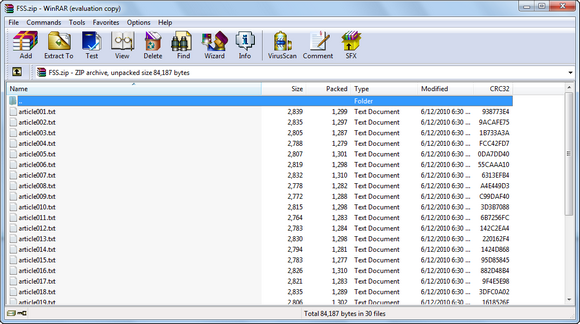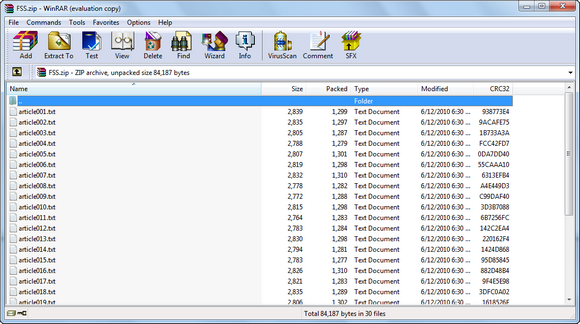 (Export) New, Different Versions of Your Article
My team and I have been using The Best Spinner for almost two years now. We've tried a few other article spinners but none of them came close to what Jon Leger offers with his software. The best part is that Jon and his team keep improving the software. They recently updated it so it allows nested spinning and made it possible for third-party apps to use The Best Spinner (through API). For example The Best Spinner has been integrated in my site SocialMonkee so users can spin their descriptions with the push of a button.
The Best Spinner Review
For me The Best Spinner is a must-have… period. The Best Spinner really is an appropriate name, and that's why I always recommend it to people asking me about it. The only downside is that sometimes the online database goes down but this is generally no big deal as it quickly comes back up. This only happened a few times throughout the two years my team and I have been using it.
Update: The Best Spinner v3.x – The good news is… The Best Spinner keeps getting better. Jon Leger keeps releasing new versions every now and then: to add new features, fix bugs… The Best Spinner v3.x includes German, French, Spanish, Italian, Swedish and Portuguese (both Brazilian and Portuguese) thesauri and also features support for building a custom thesaurus for any language. The Best Spinner is legitimately described it as the best built-in English thesaurus with hundreds of millions of entries by REAL users writing real-world articles.
I plan to use this software for many years to come as nothing beats the synonyms from real life users, which is basically a team of user editors like at Wikipedia, where, with 1 click of a button, you get access to the best spinner top user favorites, ensuring the output is high quality. This software is ever evolving and very flexible allowing you to 'nested spin' making each article more unique and have a different structure (vital that they are different word lengths and structure to ensure they are seen as unique from the ever improving search algorithms! So my rating is that if you do SEO or online marketing, 'the best spinner' is a must have piece of software:
Overall Rating = 9.5/10!
The Best Spinner Discount
Because The Best Spinner is so good, I got in touch with the owner Jon Leger and managed to get a special deal for the members of my sites, and of course my subscribers and followers. The Best Spinner normally costs $77 per Year. With the deal I got you, you can get it for $47 for a Year! Check this out…
I have two licenses for The Best Spinner and I paid full price for mine, so each year I pay $154 and my brother also has it at full price, as we purchased before I was able to get this discount… You can get it by clicking the image below for only $47! Let me know your thoughts about The Best Spinner in the comments below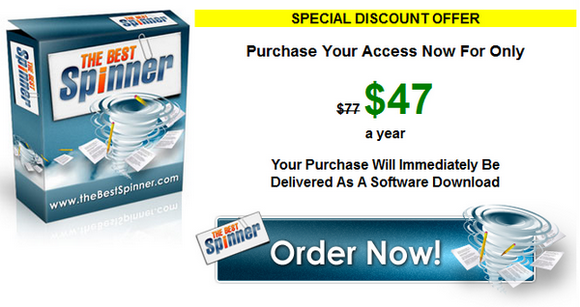 The Best Spinner Review
– Thanks for reading this review! I hope you enjoyed it. If you want to purchase The Best Spinner now, make sure you get it through my special deal so you get the
40% DISCOUNT!
If you have any questions about the software, feel free to ask them below. Jon's team assured me that this is the cheapest you can get anywhere on the Internet. What are you waiting for? Get it now before the special discount expires!
Important Note: The Best Spinner only works on Windows so if you're on Mac I suggest that you use SpinRewriter which an online spinner that lets you spin articles from any computer. You can also save your spins online so you can then access them from anywhere. Click here to sign up to Spin Rewriter now… They offer a 5-day free trial so it's totally risk-free for you. For more information, read our Spin Rewriter review.