If you want your pages to rank well in the search engines, you must look at all aspects of Search Engine Optimization (SEO): off-page SEO, which is mostly about link building, and on-page SEO, which is about optimizing your page elements like the page titles, meta tags, headings, body content, images…
If you don't know much about on-page search engine optimization, optimizing your pages can be a real challenge, or become very expensive. I use a plugin called SEOPressor to optimize all my WordPress posts and pages. I use it almost every day since it was released, as it saves me both time and money.
Here is my full, honest SEOPressor Review (Special Discount & Bonuses Below):


SEOPressor Review
SEOPressor Review – SEOPressor was developed by plugin guru Daniel Tan. Daniel is an SEO Expert, and that's why I had no hesitation in giving the plugin a try when it was released. First of all, I must say I'm a little jealous… The plugin is so good I wish I had developed it myself!
SEOPressor is an SEO plugin for WordPress, which both analyzes and automates your on-page optimization for you. It can do the job of an SEO Specialist whose task is to optimize all your posts and pages. On-page optimization will help you get your pages to rank better in the search engines, for more long-term, targeted traffic… and as a result more business for you.
How Does SEOPressor Work?
Like any other WordPress plugin, installing SEOPressor is a piece of cake. After installing and activating it, all you need to do is to go to a post or page, enter a keyword in the SEOPressor field and click the 'Save Draft' button (if it hasn't been published yet) or 'Update' button (if it has already been published).
SEOPressor will show you the on-page SEO score of the post or page, and a few suggestions on how to (better) optimize it. The score will be automatically updated as you optimize it, so you can see if what you did is right or wrong. Here is how to score window looks like: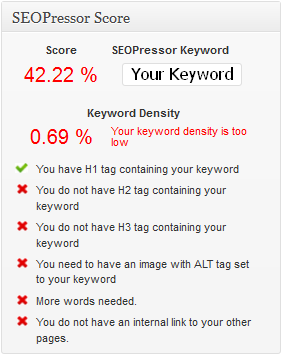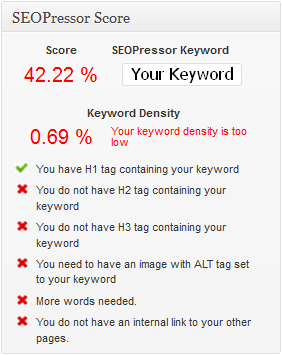 Even if you're an SEO Expert, SEOPressor is very useful as it will tell you if you forgot about something. Optimizing a post or page with SEOPressor usually takes me 2-3 minutes. If I didn't have SEOPressor, it would take me a lot longer, and I would have to remember about all aspects of on-page optimization every time…
SEOPressor also provides you a list of all your posts and pages so you can see which ones are optimized, and which ones are not, so you know which ones need some work. SEOPressor is considered by many as the #1 SEO Plugin for WordPress. It is now used on more than 15,000,000 WordPress posts and pages.
SEOPressor Review
Here is what SEOPressor does for you:
– Analyze Title, H1, H2 and H3 Tags
– Analyze Keyword Density & Content Length
– Analyze The Exact Placement of Your Keyword
– Analyze Images & Links
– Analyze Font Decorations
– Bold, Italize & Underline Your Keywords
– Add ALT Tag to Your Images
SEOPressor also:
– Tests & Rate Each Post & Page
– Reveals Your On-Page SEO Scores
– Secret Algorithm That Correlates With Google
– Recalculates SEO Scores When Content Changes
– One-Glance Fast & Easy SEO Management
– Gives Suggestions on What to Tweak
– Pumps Your WordPress Site High Up in Google
– Drives Tons of Targeted Traffic to Your Site
If you don't know much about on-page optimization, this plugin is a must have. Otherwise you either have to hire someone to do it for you, and this can become very expensive, or learn on-page SEO in details and do it yourself, and this can be very time consuming.
What I really like about SEOPressor is that it not only tells you what's wrong with your on-page optimization, it also tells you exactly what to do. Every time I optimize a post or page, I tend to forget about something like the ALT attribute in images. SEOPressor is always there to remind me about it.
SEOPressor could be considered a Virtual Assistant (VA) optimizing your posts and pages for you. The plugin both simplifies your job and saves you time. I recommend that you take the Unlimited License so you can use SEOPressor on as many WordPress installs as you want: on your blog, niche sites, clients sites…
SEOPressor is dead simple to us, and doesn't require any knowledge in search engine optimization. The plugin does it all for you, and will make the on-page optimization of your posts or pages a 2-minute job, saving you both time and money, so you can then focus on other aspects of SEO like link building.
Here is the kind of results I get by working on both aspects of search engine optimization (off-page with link building, and on-page with SEOPressor):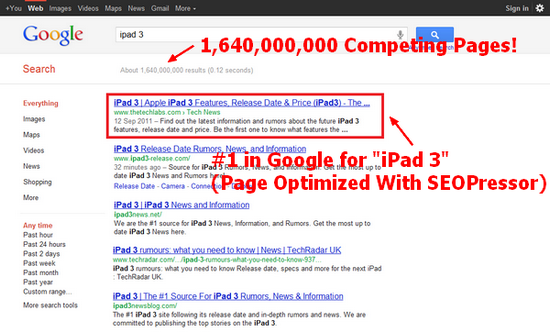 SEOPressor will help you easily analyze and optimize your WordPress posts and pages, so you can (better) optimize them and get them to rank higher in the search engines for the keywords of your choice. It will help you save both time and money, helping you save hours of boring work, so you can spend more time on important aspects of SEO like link building… (or spend more time with your friends or family… this is up to you!)
This is also a great opportunity for you to learn about the important aspects of on-page optimization, in addition to easily optimize your posts and pages. Imagine you are or want to become an SEO Professional. With this plugin you can easily optimize your clients blog or sites. On-page optimization is often overlooked but plays a very important role in the rankings of one's pages.
I even believe on-page optimization can make a big difference for many sites. A lot of people build backlinks to their site but do not optimize their pages at all. This is maybe your chance to take the edge over your competitors, and drive long-term, targeted traffic to your pages.
I managed to arrange a special discount for you: $20 OFF! Daniel (the creator of SEOPressor) never offers such discounts, and there was some begging involved but I'm glad I'm able to offer my readers this very special deal. To take advantage of this special discount, make sure you get SEOPressor through my special link.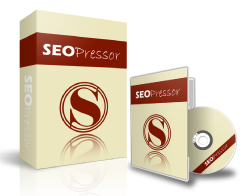 >>> Click Here to Download SEOPressor Now! <<<
I hope you liked this
SEOPressor Review
! If you have any questions, feel free to leave them below.
Are you a SocialMonkee Member?
If you are a SocialMonkee Member and got SEOPressor through my special link, make sure you claim the bonuses I prepared for you. Click here to learn more about the bonuses you can get.