I have had people ask me how you setup Aweber with Feedburner, so I decided to write a Step-by-Step post on how to do it but first lets quickly review why you should do it:
Why Use Aweber with Feedburner:
* Scheduling – Aweber allows you to choose the time and how often (day, week, month) to send out your blog broadcasts
* Designs – You can design your template for your blog broadcasts
* Post Count – You can setup how many new posts before it sends an email with a link to all the posts
* Build a List – You can email your newly established and growing list about anything at any time
* Can-Spam Compliant – There is a link in every email for a subscriber to be removed, fast & easy, so good for your readers
* Now Counts Towards Feedburner Count – Better Than RSS subscribers as it counts them every day, even if they delete the email without reading it. Having a high feed count is very good for getting advertisers, growing your blog and of course increasing your blogs value!
How To Set It Up:
It really is quite simple once you know what you are doing, but to save you some time, here is a step-by-step on how to get Aweber configured to handle your email blog subscriptions and reflect in your Feedburner counter.
First: you need to have an Aweber account, so if you don't you should open one up. The cost is $19.95 per month.
Second: Create a new autoresponder for your blog:

Third: You click on 'Messages' then 'Blog Broadcast', from there you click 'Create Blog Broadcast':

Fourth: Fill out the form entering your feed, configuring your template and title. Here you also choose how many posts are made before it sends, I have mine set to 2. Also, click on 'Automatically deliver' so that it starts sending without you needing to log into Aweber and approve it first each time. (maybe leave it manual for the first few to get the design right):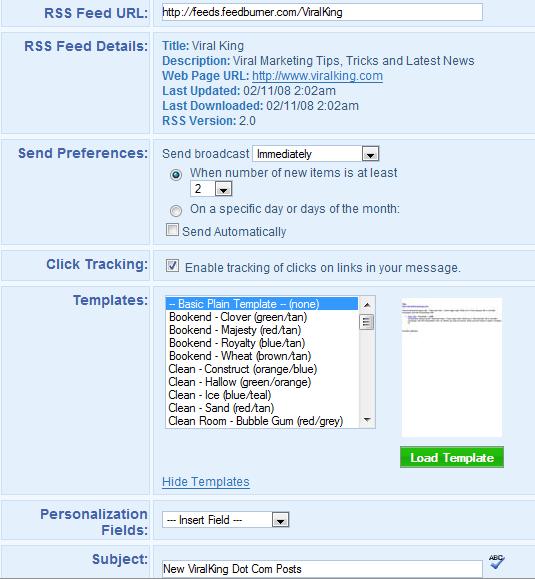 Fifth: Save your settings then go to 'List Settings' and then click on 'Web Form'. Setup a form and then confirm it. (maybe only use email if you don't want first name. On my email feed I have first name configured too. Then update setting's and click on 'html'. Take the html and paste it into the site where you want to have your form:

Sixth: Your site is now ready to grow you a list with Aweber and communicate your subscribers stats via feedburner. The next thing to do is configure your thank you pages and also the personal email sent for the member to confirm.
To see how you can set it up, why not sign up to my email update service and see how I have done it.