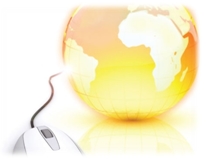 So you own or work for a small business, and it has been decided that now is the time to start your company's web presence. Depending on your budget, you may hire somebody to design the site or you may do it yourself. Whatever you decide to do, keep these small business website tips in mind so that you don't make a costly mistake:

• Keep It Simple: Flash animations and high resolution images may seem like a great idea for your site, but they have several downsides. First, they require specialized knowledge. You won't be able to just go in there and update the information, you'll need to rehire the web designer. Then, they don't work well with search engines because search engines cannot see what's in them (so make sure you add descriptive alt attributes to images). Finally, not everybody has the internet connection speed or web browser capability to view the site. Try to keep things simple.
• Update your site often: Your website is essentially your location in the digital realm. Would you let the front of your business' building become dilapidated, run down, and out of date? No, you'd maintain it so that it looks like a professional business. Same thing with your website. Keep it clean and keep it fresh in order to retain your customers.
• Focus on the customer: While you should have information about your company's history and employees on the website (if applicable) only use the 'About Us' page for this. Everywhere else the main focus should be on the customers and how their needs are met by the products and services your company offers.
• Search Engine Optimization (SEO): SEO is a necessity nowadays for all websites. If you're building the website yourself, then do plenty of research (here are some important keyword research tips) either before or while you build it so that you can incorporate the lessons learned from day one. For SEO training and tools, visit SEOBook. For easy keyword and domain name research, you may use Easy Domain Research (available on CK Tools). Otherwise, hire a contractor or freelancer to take care of it for you.
I hope these small business website tips helped! If you have any questions, feel free to leave a comment!