Earlier this year I went to San Diego, CA for a conference where I met Robert Stanley, founder of Internet Street Fighter. Yesterday Robert released a great, free report called Offline vs. Affiliate Marketing. This report was a real eye opener for me. I do all my business online but it has convinced me that there is more for the taking in the offline-to-online world. There is a lof of money to make in offline marketing!
Robert will give you this free report AND free software in exchange for your email address. I strongly suggest you to use your primary email address as his content is awesome, it's well worth it! Please click the image below:
Offline vs. Affiliate Marketing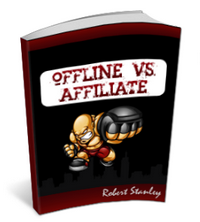 Download NOW!
Robert really is a sharp marketer (I'm really glad I had the chance to meet him) and I strongly recommend you to download his report. Today you get a free report, and tomorrow you will get a free domain finding software to help you get started. I don't know for how long the report is going to be available online so make sure you download it now! Don't miss out on this report! A real eye opener!
Download Offline vs. Affiliate Free Report NOW!