You've certainly heard of Mike Filsaime's TweetGlide already. It was launched a few months ago and has rapidly become one of the most used Twitter apps in the internet marketing and home business industry. Well, soon after launch we got Mike and his team to add ViralUrl to the list of URL shorteners that the application provides.
For those who don't know what TweetGlide is, here is a short introduction: Designed in a similar fashion to the popular TweetDeck, TweetGlide is a Twitter desktop app that makes tweeting even easier and brings more advanced features (like sponsored tweets) to make the most of this very powerful social networking and micro blogging platform. TweetGlide is currently available on PC, Mac and soon on iPhone.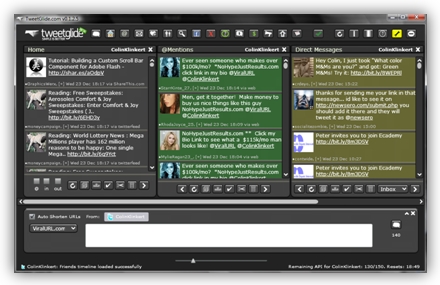 To shorten your links on TweetGlide with ViralUrl, you simply have to select ViralUrl in the drop-down menu on the TweetGlide dashboard, enter your ViralUrl username and password and… that's it! The links you tweet will automatically be shortened with ViralUrl. If you can't find ViralUrl in the list, you may want to update your version of TweetGlide.

This is truly a great addition as it will help you build your downline with no effort from your part. As a reminder, your ViralUrl affiliate link shows up on the landing page of every shortened link you may create with the system. You also get a greater chance to earn commissions but that's just another of the advantages of using ViralUrl with TweetGlide.
If you aren't using any of these tools yet, you may join ViralUrl and download TweetGlide now. Both tools are free to use so make sure you give them a try before you realize what you're missing out on!