This week I'm proud to release the revamped version of my help desk! I indeed just got it redesigned to make it look nicer and most importantly improve usability. Check it out now: Reply2Colin.com. I hope you like it! Thankfully this new design should help you get in touch with my team and myself more easily. It is now a little easier to find more information on my products and select the appropriate category before submitting a ticket.
As a reminder, you may contact my team for ViralHosts general and technical support, ViralNetworks general and technical support and iBlog.at general and technical support. If you have questions about my own blog (to report bugs and errors, to advertise on it, etc.) or want to send me a joint venture offer, feel free to do so! My team or myself will respond to you as soon as possible.
When submitting a ticket, make sure you select the appropriate category so your ticket doesn't get lost and we can respond to you as quickly as possible. The knowledge base and trouble shooter are pretty empty at the time I write this blog post but will be filled with lots of useful information very soon. Thanks for your patience!
For ViralUrl support and ViralFollowers support, please submit a ticket to my business partner Frank Bauer's help desk at Reply2Frank.com. Thanks for your understanding.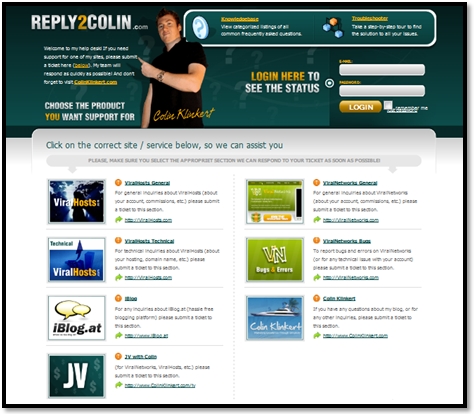 New Design for Reply2Colin.com
Feel free to comment this blog post. I'd love to hear what you think of this new design!