Early this week I was invited to join the preview version of Google Wave. There's been a lot of hype over this new communication and collaboration tool. My VP of Operations and I were able to give it a try over the last few days and even if we aren't very impressed, we both believe that this new tool has great potential. Google Wave was designed to merge emails and instant messages, along with other forms of communication such as wikis and social networks… but truly, you can use it the way you want.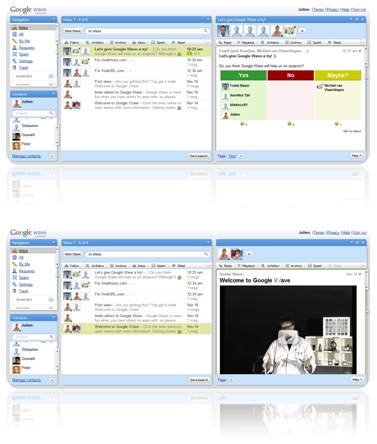 With Google Wave you don't send emails to recipients but share waves with collaborators. You can of course add links, but also polls, photos, videos and lots of other different types of file as you can see on the two screenshots above. You can drag waves around, embed them in blogs and sites and even play them back so you get an idea of who said what when. Google plans to release most of the source code as open source, which is great news as web developers will thus be able to create applications and extensions.
Even if Google Wave is still in development and it's a little too early to tell if this is going to become the next-gen marketing tool, it looks very promising. Google Wave allows you to communicate not only with your friends and colleagues, but also with your customers. It may indeed open new doors to marketers as it allows to share content such as product photo, videos, ratings and testimonials… and almost anything else you could think of. Any business could even invite their customers to join Google Wave for customer support or product development.
If you haven't received an invitation to join the preview version of Google Wave yet, make sure you ask for an invitation around you or request an invitation from Google. Worse, if you don't know anything about Google Wave, check out the following video: