A few weeks ago I gave away a Facebook eBook that I hope you enjoyed. I really found it interesting and I'm pretty sure most of you who have downloaded it did as well. This time I want to share a keyword density tool with you. I came across this application not so long ago and found it very useful. Article marketing plays a very important part in my marketing campaigns and it is important for my team and myself to submit good quality articles to the web.
I define good quality articles as interesting articles that bring real value to the readers. However, it's also important that search engines find them interesting… interesting enough to rank them well for certain search terms. That's where the keyword density tool comes in. As previously mentioned, this sort of tool can be very useful, to know how many times a certain search term is used in your article for example.
Let's say you have a 500-word article but the search term you want to target is only used once and twice… this is not good enough. Google will never pick your article for these keywords. However, if the search term is mentioned five or six times, then the article has a better chance to rank well in the search engines. There are of course a lot of other factors to take into account.
Keyword Density Tool
The tool I want to share with you is called Article Analyzer. Like last time all you have to do to download the file is to leave a comment. You will receive a confirmation email, and then another email with a download link.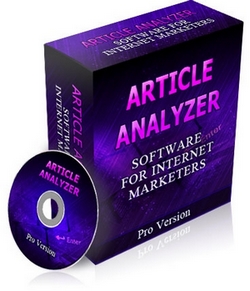 Leave a comment to receive it FREE!
Keyword Density Tool
This tool is very easy to use and that's why I suggest that you download it. Did I forget to mention it's FREE? Just give it a try, you will thank you me later… All you have to do is to paste your article, enter your keyword or keyphrase, and the
keyword density tool
tells you how many words the article has in total, how many times the keyword or keyphrase is used, and what is the density (in percentage).
I have never been able to prove how important keyword density is for the search engines. However, it really makes sense to use the search term you want to rank for in your content. However, if the search term is used too often, this can be a problem… Keyword stuffing is a black hat practice that can seriously damage your online reputation. That's why using a keyword density tool is important. I would actually be more than happy to discuss about the topic of keyword density and its importance for search engines rankinsg. Feel free to leave a comment with your views on the topic.
Keyword Density Tool
To download this Keyword Density Tool, please enter your first name and best email address in the form below. This will direct you to our Bonuses page where you will be able to download the Facebook eBook as well as many other free products and bonuses.
Join Our Community & Get Access to Premium Content, Training
& Free Bonuses For Members Only (Value $197) Cost: FREE:
The file comes with a user guide so there's really nothing to worry about if you aren't familiar with this sort of application. It's very easy to install, easy to use, and it does a great job! If you have any questions, feel free to ask, and stay tuned for more product giveaways!