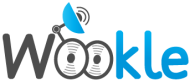 I know Chris Munch personally so I always get early access to his products… I was quite excited when he first told me about his new social plugin called Wookle. He actually asked me to write a review for it, whether I like it or not. That's a risk he took, because I only write unbiased reviews, but if you know your product is good, I guess it's not really a risk! Alright, it's now Wookle review time…
In short, Wookle is a plugin (for WordPress, but it can also work on other types of sites) that puts social buttons on your posts and/or pages so people can click them and share your content on top social networking platforms including Facebook, Twitter, Pinterest and StumbleUpon. The setup process works like a charm: you install the plugin just like any other plugin, and you choose the settings you want to use…
This plugin is highly customizable. There are plenty of different options and settings but overall it remains very easy to set up. Actually, it took me less than 10 minutes to install the plugin and set it up like I wanted. The idea behind this plugin is to entice people to share your content, so your site gets social signals, which are very important, not only for users, but also for the search engines. Social signals give some authority to your content…
Are Social Signals Important?
For me, social signals are as important as backlinks. With backlinks, you get 'link juice', which is highly useful to rank well in the search engines. With social signals, you get 'social love', which also helps a lot… Imagine a couple of posts, on the exact same topic. The 1st one only has a few social signals, and the 2nd one a lot of them. Which post is Google more likely to rank well? Which post are people more likely to read if they had the choice? I don't think I need to answer these questions…
I installed it on my blog and placed the buttons at the bottom of posts and pages. Here is how it looks:

Wookle comes with a bunch of text and image buttons, but you can also upload your own ones. With text buttons, you can easily change the text content, so for example you could have buttons that say: I Like This!, I Love This!, I Hate This!, I Don't Care!, I Want One!, I Have One!, I Ordered One!, Great Value!, Interesting!, Awesome!, Unbelievable!, Crazy!, This Is Great!, This Is Perfect!, A Must Read!, Hilarious!, etc.
Here are the available text button designs:


Here are the available image button designs: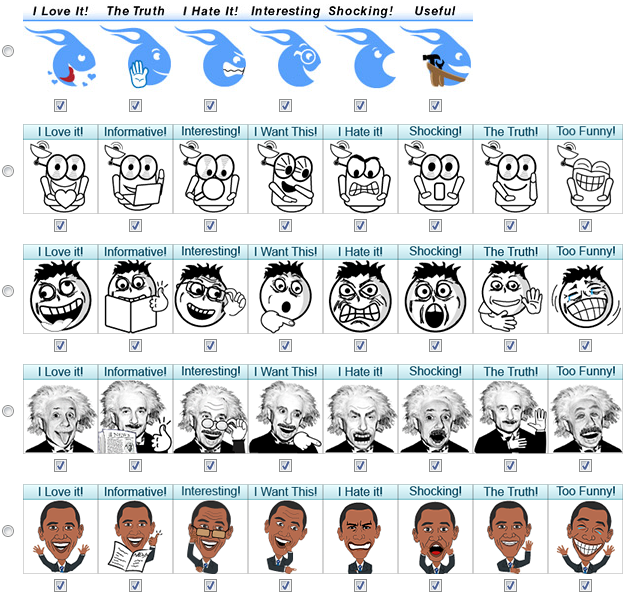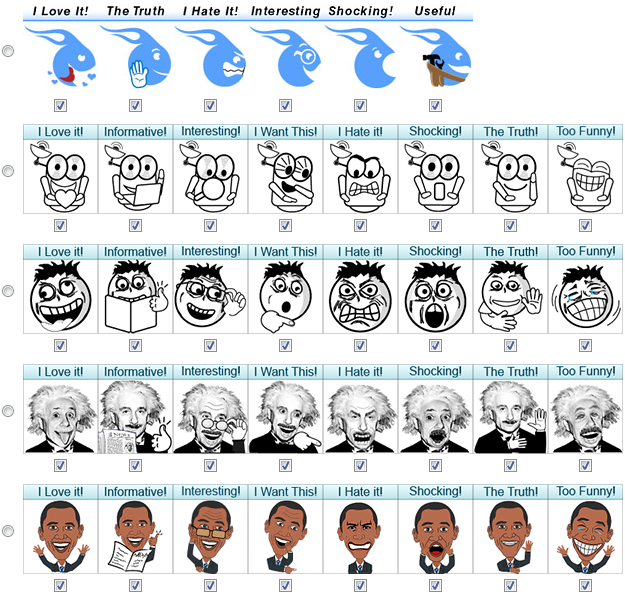 You can also choose to direct users to either Facebook, Twitter, Pinterest or StumbleUpon, or show them a window where they can choose which social networking platform they want to be directed to. If you use Facebook, you can create a Facebook App so in the message that appears on Facebook, it shows the name of your choice ("via…") instead of "via Wookle". I thought this would be complicated to set up but it actually took me 2 minutes. A piece of cake! The plugin comes with step-by-step instructions for everything you might want to do. You simply cannot go wrong…
You can also show message counts (the number of clicks each message has received) and a most popular message (most popular message for a given post or page), change the preamble (Facebook It!, Did You Like This Post? What Do You Think Of This Post?, etc.), exclude posts, pages, tags and/or categories… You can show buttons at the top of all posts and/or pages, or at the bottom, or use the custom code and place them wherever you want. The best part is that Wookle works seamlessly on any site, whether it uses WordPress, Joomla, Drupal, OSCommerce, phpBB, Microsoft NET, HTML…
Don't Use WordPress?
If you don't use WordPress, don't worry… Wookle uses a simple Javascript-based interface. Everything is explained in simple words in the documentation provided with the plugin. Using Wookle on a non-WordPress site is as easy as using it on a WordPress site. I forgot to mention… You can get a single site license, multi site license or unlimited site license, so you can even offer this as a service to your clients if you want to.
My Final Words
My Rating:

The only reason it gets a 9 and not a 10 is because I'm jealous… Why didn't I think about this simple yet amazingly powerful plugin myself? Alright, that's not a valid reason… The real only reason it doesn't get a 10 is because I think there are not enough image buttons that come with the plugin. A few more generic image buttons would have been great, and that's only a small downside, and is not really a problem provided you can upload your own ones if you want to.
Wookle is the only technology on that market that taps into the emotions of users and lets them indulge their favorite online pastime: sharing their opinions and expressing their emotions. Click here to get a Wookle license now, for massive viral exposure, to boost your social signals for higher rankings, and bring you more traffic… and higher profits!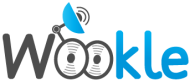 P.S. – Please click either of the buttons located below to see how the plugin works: