Last month I shared an MLM Lead System Pro webinar video with you. The main focus of this webinar was on our new web hosting system called ViralHosts, but the guys at MLSP decided to do another webinar about a product of ours. This time they invited Internet Marketing Expert Jim Chao to talk about ViralUrl. Once again, the video call was recorded and is now made available to anyone who wants to watch it:
>>> MLM Lead System Pro Webinar Video <<<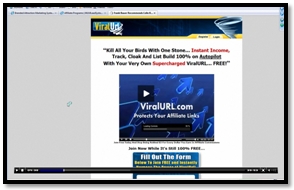 Jim Chao only spends 2 minutes every 3 days on ViralUrl and gets 60 to 80 leads with every single mailing he does. If you want to find out how he does it, make sure you watch this video. It's only 40 minutes long and is full of great insider tips. It's definitely worth the watch! Like last time, if you want to download the MP3 file, go to the MLSP archive section (you need to be logged in to access this page).
The videos are also available on ViralNetworks:
– MLSP Webinar – ViralUrl & ViralHosts
– MLSP Webinar – Supercharging ViralUrl