Less than a week ago I launched SocialMonkee, an instant link building solution allowing you to easily build 25 uniques backlinks to your pages every day, with the push of a button! SocialMonkee is free to join, and very easy to use, which partly explains why it's growing very fast! Let me tell you how it all started…
I came up with the idea about two months ago… I wanted a way to get do-follow inbound links to my new pages and sites fast, so that they get indexed in the search engines quickly, but building such a system turned out to be more time-consuming and expensive than I originally thought. I stuck with the idea I had in mind and came up with this solution, which currently has 100 sites in the backend, all on different C-Class IP addresses, and a lot on different A-Class and B-Class IP addresses. Now let's talk numbers…
To set this up would cost…
105 domains = $1,199 per year
Hosting with 100 C-Class IPs = $5,400 per year
System development = $3,000 one-time
Sites development = $10,000 one-time
Firefox Plugin development = $700 one-time
Maintenance fees = N/A
Copywriting expenses = N/A
Marketing expenses = N/A
TOTAL = $20,299
Still, you can join free… That's why I need your support to spread the word about SocialMonkee, and get your friends to join, but that's not the topic of this post! Let's talk about the system itself: SocialMonkee will help you dramatically increase the number of backlinks to your pages, for better search engine indexing, rankings and traffic! This will give your pages extra online exposure.
If you realise the potential SocialMonkee has, you will quickly want to upgrade your account from Free to Premium. As a Free member, you can submit 1 URL to 25 sites, once every day, free. That's a total of 175 backlinks every week, 750 every month. As a Premium Member, you can submit 1 URL to 100 sites, three times a day! That's a total of 2,100 backlinks every week, 9,000 every month to your sites and pages! So if you have a lot of pages (on a blog or site) then Premium is a great option.
Premium members also get link reports and also RSS feeds of each project. This is vital to allow your links to get indexed. There is also an advanced video showing Premium members how to take their RSS feed and ping it to get your links indexed in the search engines.
The best part is… If you want to upgrade, you have two options. The first option consists of paying the ONE-TIME fee of $47. Pretty cheap, isn't it? This is a one-time payment, meaning as you use the service, it works out cheaper and cheaper. Well, there's an even cheaper option… The second option consists of referring 12 persons to SocialMonkee to get a FREE Premium Upgrade! Your account will automatically be upgraded to Premium when you reach 12 referrals.
Firefox Plugin
An important aspect of SocialMonkee is that you can submit a URL to the system from Firefox. With this plugin, all you need to do is to click a few times and your URL is submitted to 25 or 100 sites, depending on your membership level. Submitting a URL via the members area takes less than 2 minutes, but with this plugin it takes less than 1 minute!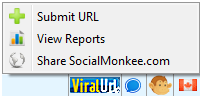 If you kept reading until here and haven't joined SocialMonkee yet, I'm wondering what you're waiting for! Join SocialMonkee now, and build up to 300 backlinks to your pages TODAY! If you have any questions, suggestions or feedback, feel free to post a comment below, or on our brand new Facebook page! Please 'Like' it to help spread the word and support the maintenance of SocialMonkee! Thanks in advance!
CLICK HERE TO JOIN SOCIALMONKEE
Your Instant Backlink Builder